Our office is OPEN!
The following precautions and policies have been made to ensure your safety while visiting our office:

• Masks are strongly encouraged.
• Curbside supplement pickup is available.
• We are disinfecting all tables and equipment between every patient.
---
We ask that you reschedule your appointment if you meet any of the following criteria per the CDC:
1. Have returned from international travel or been on a cruise within the last 14 days.
2. Signs or symptoms of respiratory infection such as fever, cough, shortness of breath.
3. Individuals who have had contact with OR are under investigation for COVID-19.
We appreciate your support. If you have any questions, please call our office at (850) 656-6606.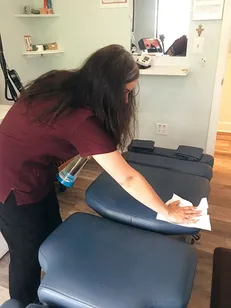 On March 31st, an amended Counsel's Opinion was provided to the Florida Dept. of Health, reflecting the new (March 28, 2020) Homeland Security CISA Guidelines that now specifically include chiropractors as essential critical workers during the COVID-19 response (found at p. 5).